Clay Galway 20/21 Online Exhibition
Curators: Rob D'Eath and Jed Gjerek
Producers: Rose Roccaforte and Jed Gjerek
Photographer: Marta Barcikowska
Members involved:  Rose Roccaforte, Holly Mullarkey, Jed Gjerek, Maeve Gallagher, Emma O'Toole, Rob D'Eath, Cormac O'Neill, Juliet Ball, Tamaru Hunt-Joshi, Carina Berger, Rebecca Philbin, Sorsha Galvin, Aoife Natsumi Frehan, Carly McCann, Orla Culligan, Tatiana Dobos, Elva Carroll
Funded by Galway City Council
Clay Journeys for Galway 2020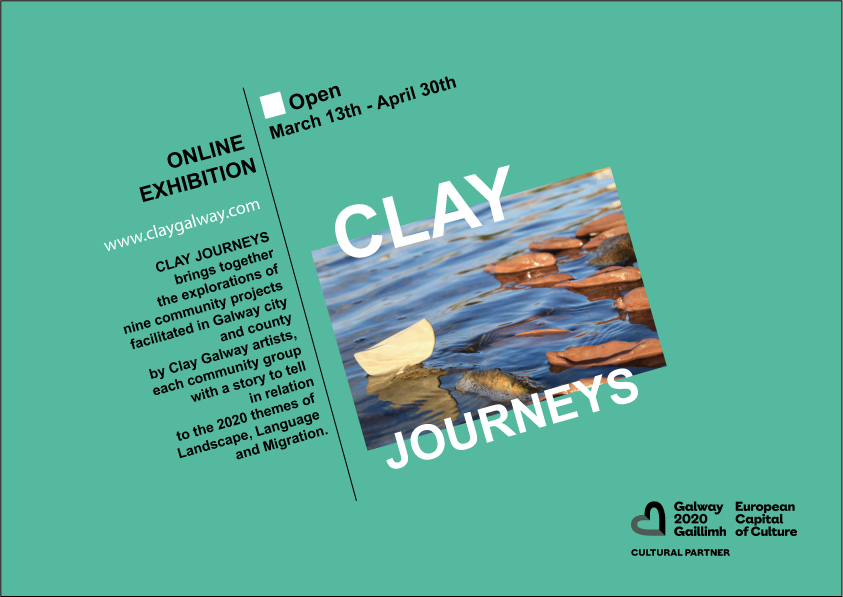 Event Title: Clay Journeys Online Exhibition
Date: 13 th March to 30 th April 2021
Event Page: www.claygalway.com
Clay Galway in association with Galway 2020 European Capital of Culture present CLAY JOURNEYS, a Small Towns Big Ideas project.
CLAY JOURNEYS draws together the explorations of nine community projects facilitated in Galway city and
county by Clay Galway artists. Each community has, through the creation of clay boats, a story to tell in relation to the Galway 2020 themes of Landscape, Language and Migration.
These boats honour stories of migration both present day and historic. Each community has its own identity in relation to the symbolism involved in the form of the boat that they have chosen and the methodology of clay building.
The boat is a symbol, a container of stories. The clay boats celebrate the all-encompassing presence of water in the Galway landscape and in the language of clay making.
Our original vision of launching clay boats into the sea in Galway and in our sister city Rijeka and hosting an
exhibition of works has not been possible to realise due to the ongoing pandemic. However, we are delighted to present Clay Journeys as an online exhibition where you can view the work of the artists and communities they engaged with through photographs and video.
Clay Journeys will be available on Clay Galway's website from 13 th March through to 30 th April 2021.
Clay Journeys Artists: Carina Berger, Mary Byrne, Rob D'Eath, Tatiana Dobos, Maeve Gallagher, Jed Gjerek,
Tamaru Hunt Joshi, Brian Kelly, Keelan Kennedy, Holly Mullarky, Cormac O'Neill, Emma O'Toole, Veronika
Straberger
Executive Producer: Rose Roccaforte
Media Manager: Elva Carroll
Poster Image: Lorna Murphy

Curated and produced by Rob D'Eath and Jed Gjerek

Annual Members Exhibition 2019